---

Westcountry BEAR FAIRS
CORNWALL Summer BEAR FAIR
Lostwithiel Community Centre
Sunday 23rd June 2013

Exhibitor List to be finalised...watch this space....
CHAT TO WESTCOUNTRYBEARS ON

---
AnimalsAsia

This years event will see the return of AnimalsAisa raising funds to aid Moon Bear Rescue and to end Bear Farming across Asia



---
Ann Made Bears

Original handcrafted Artist Bears designed and hand made by Ann Reed. Available only at Bear Fairs and by Mail-order. Commissions taken.
Tel: 020 8202 3165
Email: ann@ann-made-bears.co.uk
Web: www.ann-made-bears.co.uk
Click on logo above to enter Ann-Made-Bears website
---
Artemis Bears
Artemis Bears are award winning, unique, bespoke teddy bears, hand made in Devon UK. Whilst using traditional techniques, our bears have a contemporary feel...
Andrea will be at the show demonstrating her needle felting techniques
artemisbears@gmail.com
http://www.artemisbears.co.uk/
---
BARRICANE BEAR Co
ONE OF A KIND HANDMADE ARTIST BEARS INSPIRED BY MY LOVE OF ANTIQUE & VINTAGE BEARS
e.mail: barricanebearco.co.uk
---
BEARS ON LOCATION
Bears on Location by artist Dale Reardon has a range of high quality photographic prints and Children's story books,
combining vintage Teddy Bears and Cornish landscapes.
Email : bearsonlocation@aol.co.uk
web: www.bearsonlocation.co.uk
---
BOWER BIRD INTERIORS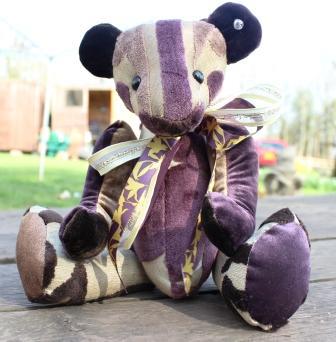 OOAK HANDMADE BEARS & HANDMADE CHRISTMAS GIFTS & DECORATIONS
tel: 07979595397
facebook: Bowerbird interiors
---
Bearly Sane Bears Bear Making Supplies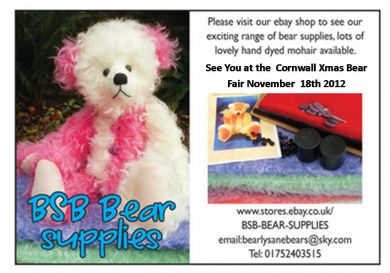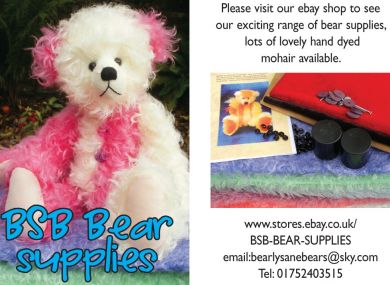 We stock an extensive range of Mohair fabric including our own hand dyed range in lots of delightful colours and shades.
Patterns and a complete range of bear making supplies
www.stores.ebay.co.uk
email: bearlysanebears@sky.com
tel 01752 403515
---
BUTTON MEADOW BEARS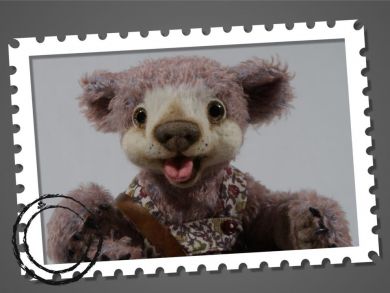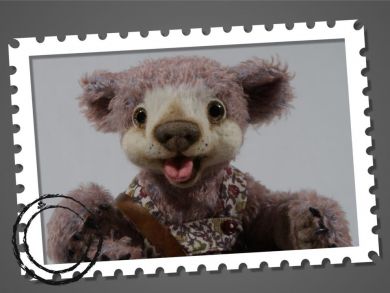 Button Meadow Bears are handmade from top to toe.
Each individual design is needle felted with heart and personality to make a joyous addition to any home or Hug.
website: thelittlebuttonmeadow.blogspot.co.uk
buttonmeadow.bears@facebook.com
email: thelittlebuttonmeadow@gmail.com
---
Christopher's Chairs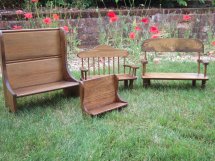 A unique Hand-crafed range of Bespoke Windsor Style chairs, Rocking Chairs and Beaches for Dolls and Bears made in the New Forest, England
email: info@christopherschairs.co.uk
web: www.christopherschairs.co.uk
---
CORNISH BEARS

Uniquely Cornish handmade collectable bears.
Traditional styled bears handmade from mohair with glass eyes.
commisions taken for special occasions
liz@cornishbears.co.uk
01288 361113
---
Cornwall Hospice Care

---
FAYES BEARS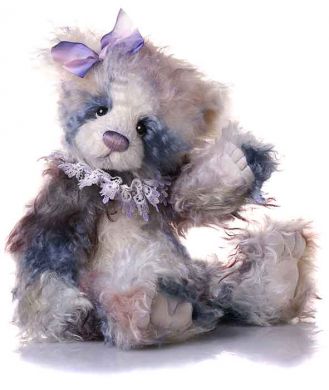 SALE OF PERSONAL COLLECTION OF RETIRED, RARE AND COLLECTABLE CHARLIE BEARS FROM 2007 to 2012.
---
Funny Bears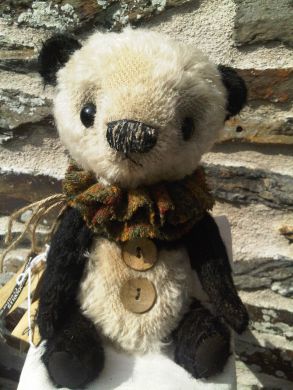 Handmade in Cornwall Mohair and faux fur Bears, Dolls, Fluffy Bunnies and Elephants with the odd monster or two thrown in to warm your heart and make you smile!

Funny Bears
---
Hector's Friends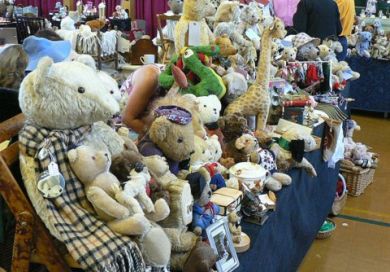 Visit Hector's friends for vintage & collectable bears. dog & other soft toys, together with books & other bear related accessories
tel: 07843720546
email: pamwest49@gmail.com

---
Hidden Cove Bears

HIDDEN COVE BEARS
"A SUPERB SELECTION OF TRADITIONAL HAND SEWN TEDDY BEARS, INSPIRED BY MY LOVE OF TEDDY BEARS FROM AROUND THE WORLD"
email: hiddencovebears@googlemail.com
web: www.hiddencovebears.co.uk

tel: 01626 853251
---
Kingswear Bears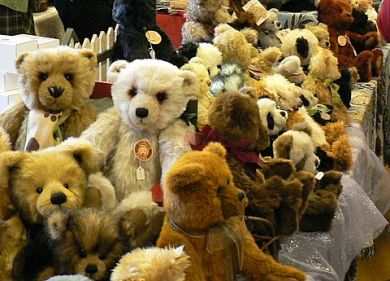 Wonderful selection of Charlie Bears and Kaycee Bears brought to you from our riverside shop opposite Dartmouth where you will also find bears from Steiff, Herman, Merrythought and many more....
email: teddies@kingswearbears.com
web: www.kingswearbears.com
Tel: 01803 752632
---
Lanie Bears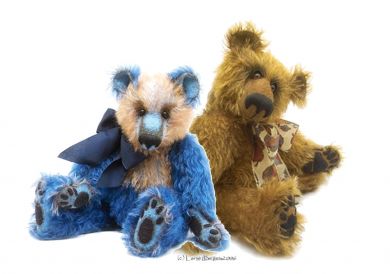 I am a UK Mohair Bear Artist, making OOAK original mohair bears. Each mohair bear is individually designed and hand sewn
These are my contempory Style Bears. All my mohair bears are heirloom quality teddy bears.

email: lanie@mohairbears.co.uk
web: www.laniebears.co.uk


---
Maylen Bears & Friends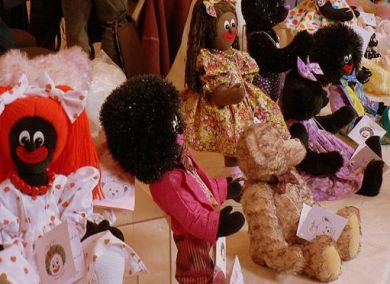 A Unique collection of handmade teddy bears ~ mystical creatures ~ Fairies, Feline creations and Dragons conspire together with their effervescent creator to produce a magical combination...
Maylen Bears & Friends
---
Mohair Bear Making Supplies

"THE ONE STOP SHOP FOR ALL YOUR BEAR MAKING SUPPLIES"
Varied and innovative teddy bear making supplies, all at the right price, without sacrificing any quality of goods or service
email: sales@mohairbearmakingsupplies.co.uk
web www.mohairbearmakingsupplies.co.uk
Tel 01952 245513
---
Perry Bears
OOAK Artists bears lovingly handmade from Mohair plus Chenille Stem Bears. Bags, cushions and all things "beary"
All of the Bears and craft items are handmade by myself Debbie Tamblyn in Looe Cornwall England.
website www.perrybears.com
email: perrybearscornwall@gmail.com
---
Picnic Bears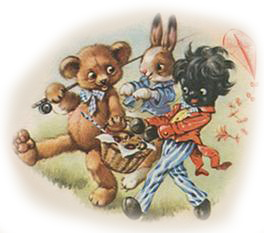 An extensive range of OOAK Teddy Bears & Gollies handmade in the West Country
Picnic Bears
---
Pogmear Bears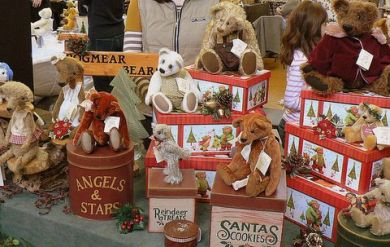 Pogmear Bears - unique handmade mohair collectors bears
Local teddy bear artist from St Austell Cornwall
One Of A Kind (OOAK) teddy bears.
---
Purple Raindrops
Welcome to a unique world of illustration and verse displayed in crative ways to warm your heart
all artwork and prints from originals by Jackie
website: www.purpleraindrops.co.uk
email: purpleraindrops@sky.com
tel: 07766123987
---
Ready Tedi Go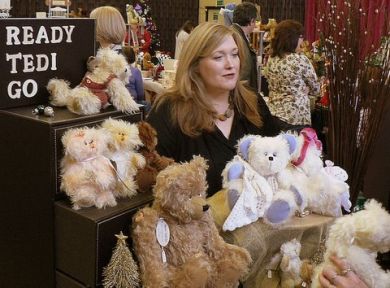 Handmade Artist Teddy bears, teddy bear jewellery and teddy bear decorated bags
---
Tamar Teddy bear Hospital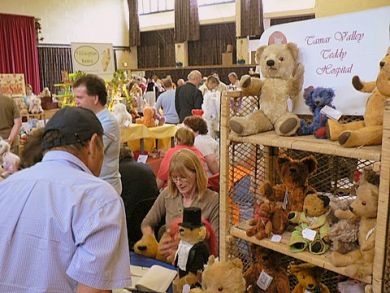 Cassy from The Tamar Teddy Bear Hospital will be on hand to give restoration advice and if necessary to hospitalise any infirmed teddies.
tamarvalleyted@aol.com
---
Tamerton Teddies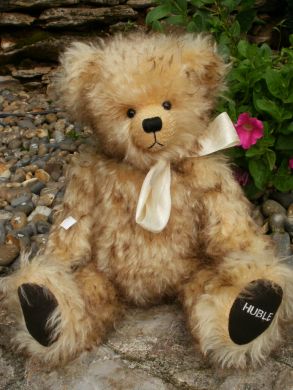 OOAK One of a Kind Artist Bears Designed and Handmade by Artist Beryl White of Plymouth Devon
email: berylwhite@blueyonder.co.uk
tel: 01752 480656
---
Teddies of Trenode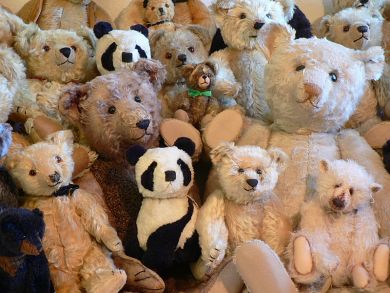 Teddies of Trenode
Tricia of Teddies of Trenode will have an extensive selection of superb "Oldies" to chose from - Old Teddies to suit every taste and pocket plus a layaway opportunity! Steiffs, Farnells, Merrythoughts, Chilterns & Chads, Deans and many more - the choice is yours!
In addition Tricia will be providing a "Valuation & Identification Service" for any 'Veteran Teddies' brought in - So bring your own, if you are not sure and would like to know!
---
Tedi Ty Coed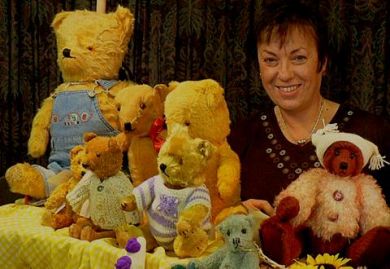 Artist Bears, Old Bears and teddy bear related items to suit every pocket and taste
email: sue.davies54@btinternet.com
tel: 01443 776031
---
Tinpot Teddy Emporium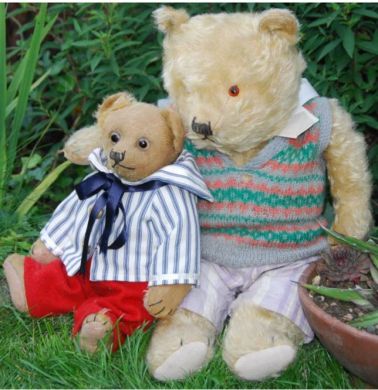 Tinpot Teddy Emporium specialises in the sale and renovation of characterful Old Bears, particularly English Bears from the 1920's to 1960's,
Plus an excellent range of vintage accessories and bear related paraphernalia.
email: chrism@tiscali.co.uk
tel: 01208 873427

---
Urchins Bears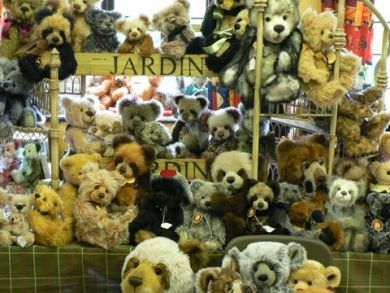 A superb range of collector teddies from Cornwalls largest independent teddy bear shop. Stockist of Charlie bears, Kelsey Cunningham, Isabelle lee, Merrythought, Steiff and an adorable range of Artist Bears from across Cornwall and the West Country
New shop full of bears at now Tintagel ~ open 7days a week (see website for winter opening hours)

Available on-line 24/7
email: sales@urchinsbears.com
web: www.urchinsbears.com

Tel: 01840 779009
---
AnimalsAsia

This years event will see the return of AnimalsAisa raising funds to aid Moon Bear Rescue and to end Bear Farming across Asia

n



---
---
IF YOU WOULD LIKE TO EXHIBIT AT ANY OF WESTCOUNTRY BEAR FAIRS HIGHLY SUCCESSFUL EVENTS
PLEASE CONTACT US ON:
01840 779009 or 01503230851
e.mail address: sales@urchinsbears.com